Welcome to the National Center for Academic Transformation.

NCAT is an independent non-profit organization dedicated to the effective use of information technology to improve student learning outcomes and reduce the cost of higher education. NCAT provides expertise and support to institutions and organizations seeking proven methods for providing more students with the education they need to prosper in today's economy. Learn more...

What's New:

NCAT Outcomes and Analyses:

NCAT Resources:
New to Course Redesign? a list of recommended reading to get you started.
Course Redesigns: descriptions of more than 150 large-scale course redesigns sorted by discipline, by model and by degree of success.
Course Redesign Planning Resources: techniques, models, examples and tools for institutions and systems embarking on course redesign programs.
Course Redesign in Mathematics: techniques, models, examples and tools for institutions embarking on course redesign in developmental and college-level mathematics.
NCAT 2013, 2014 and Spring 2015 Webinar Series: Recordings of course redesign webinars in American and European history, chemistry, college algebra, computer literacy, developmental english and mathematics, developmental math, developmental reading, economics, psychology, statistics, women in society and how to get started on course redesign. Each webinar featured the project leader of a highly successful course redesign, who described the redesign project with a particular focus on its distinguishing characteristics.
Redesign Scholars Program: a program to link those new to course redesign with more experienced colleagues to whom they can turn for advice and support.
The Learning MarketSpace:NCAT's semi-annual newsletter highlighting examples of redesigned learning environments using technology.
Articles and Monographs: suggested reading about the nexus of higher education and information technology.
Staff:bios and contact information for NCAT staff.

NCAT Completed Programs:
2006 – 2012, State and System Course Redesign: a program in partnership with states and higher education systems that produced large-scale quality improvements and cost savings with links to statewide course redesign efforts in Arizona, Maryland, Mississippi, Missouri, New York and Tennessee, including descriptions and data from 54 redesigns.
2009 – 2012, Changing the Equation: a program that engaged the nation's community colleges in a successful redesign of their remedial/developmental math sequences supported by the Bill & Melinda Gates Foundation, including descriptions and data from 32 institutions.
2006 - 2012, The Redesign Alliance: a national member organization of institutions, companies and organizations formed to advance the concept of course redesign throughout higher education.
2006 - 2010, Colleagues Committed to Redesign (C2R): a FIPSE-funded initiative that engaged new institutions in large-scale course redesign, including descriptions and data from 28 redesigns.
2004 - 2005, Increasing Success for Underserved Students: an effort supported by Lumina Foundation for Education to assess the impact of the Program in Course Redesign on the success of traditionally underserved students.
2003 - 2006, Roadmap to Redesign (R2R): a FIPSE-funded initiative that produced additional course redesigns using a streamlined course redesign methodology, including descriptions and data from 12 successful redesigns.
1999 - 2004, Program in Course Redesign (PCR): NCAT's seminal program that demonstrated how to redesign courses using technology to improve quality and reduce costs, including descriptions and data from 30 successful efforts.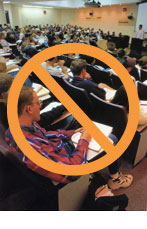 What others are saying about NCAT.
Learn more...
Our Process: Discover the four-stage process that NCAT uses to advance our goals of improving student learning and reducing instructional costs.
Learn more...